24 Karat Gold + Rose Infused Multitasking Face Oil
Regular price

Sale price

$25.00
Curated with 12 skin loving oils all with their own unique benefits, this versatile face oil is infused with real rose petals and 24 karat gold flakes to visibly brighten skin and replenish moisture for a smooth, glowing complexion.
Highlights
24 Karat Gold:  activates the basal cells of the skin which in turn increases the elasticity of the skin. It reduces wrinkles, fine lines, blemishes, and marks on the skin, leaving you with a youthful appearance.
Carrot Seed Oil: vitamin A + beta-carotene encourage cellular turnover
Marula Oil: this lightweight, cold-pressed botanical oil moisturizes and plumps your skin to fight visible signs of aging and improve skin's tone, generating a newly replenished glow
Rosehip Seed Oil: rich in fatty acids, vitamins and minerals - the essential nutrients needed to keep the skin firm and youthful.
Squalene: a highly moisturizing emollient with excellent skin penetrating qualities and an affinity to the skins natural lipids - it prevents moisture loss while restoring the skins suppleness
Rosemary Essential Oil: hydrates the skin, which helps to control oil production. It also provides an antibacterial surface for the skin, keeping acne at bay
Rose Essential Oil: brings out skin clarity
Ingredients

Sweet Almond Oil, Grapeseed Oil, Apricot Kernel Oil, Sunflower Oil, Carrot Seed Oil, Marula Oil, Rosehip Seed Oil, Tea Tree Oil, Squalene, Rose Essential Oil, Rosemary Essential Oil, Vitamin E, Dried Rosebuds, 24 Karat Gold Flakes.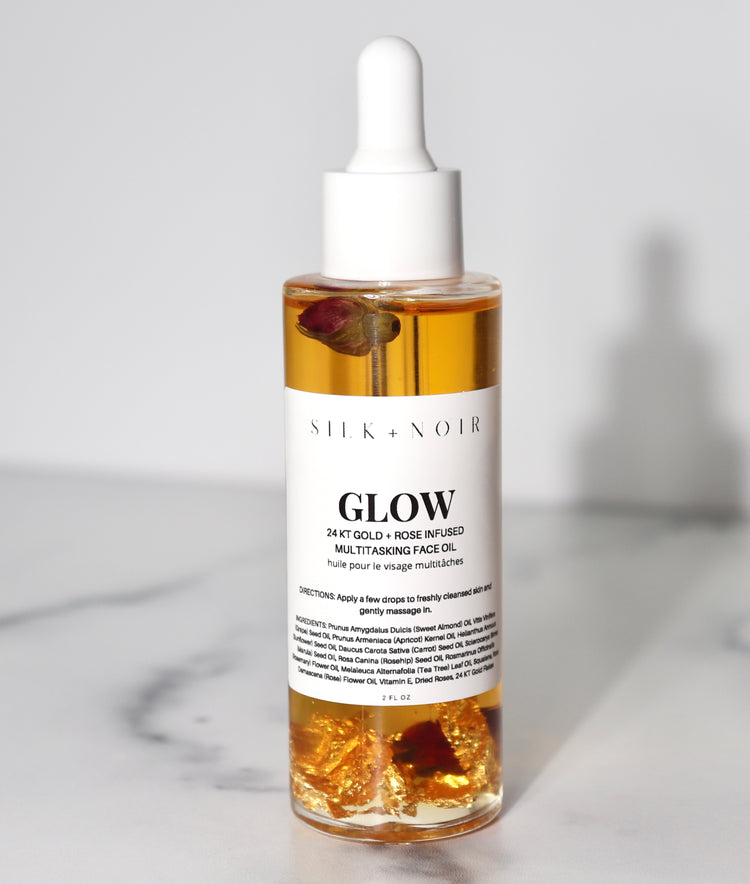 Key Ingredients
24 Karat Gold

Promotes glowing skin + restores elasticity.
Carrot Seed Oil

High in antioxidants. Rejuvenates skin + support natural collagen synthesis
Rosehip Seed Oil

Derived from the small fruit that sits beneath the rose, rosehip seed oil is rich in vitamins A, C, E and essential fatty acids. This liquid gold brightens and evens out the skin while increasing skin cell turnover.
Golden Goddess Skin!!
I love everything about this oil. I feel amazing and my skin looks flawless. Thank you!!
24 Karat Gold + Rose Infused Multitasking Face Oil
I love this product...after using, I noticed how different my face and skin felt after applying it...it smelled good and left me with a vibrance, that I equate to youthness...I will definitely be using this as long as it's available...thank you
Not sure yet but liking it
I'll touch base and update my review in a week or so. I've been using the oil day and night for a week now. Im a celebrity makeup artist and I've been trying to find natural alternatives to my high end products because of all the toxins they carry. So far I really like the oil. It hasn't broke me out and I feel like the more I use it the better it looks. Not a huge fan of the smell. Though I've used it on my clients and the first thing they say is they love the smell. So we will see! :-) so far so good. Bang for your buck considering I spend 285$ on La Mer renewal oil even went I get sent is for free.
Absolutely Beautiful Scent/Stunning design!!!
Honey, this oil is " everything " -Not only is the smell beautiful, but the overall design is flawless!
I apply this oil to my face after washing my face with the Black African Soap Face Wash & I be feeling so good after . My Sister has also managed to help herself to my oil and says that, it has her glowing, going into work.
Best facial oil ever love ❤️ 😍 it
I've used multiple facial oil for hyperpigmentation on my face, when I got this oil I knew it wasn't going to get get rid of my hyperpigmentation but I decided to get it anyway cos of the 24k gold flakes. The moment I put this oil on my face it penetrated deep into my skin, I've been using this oil for a while now adding vitamin c and ferulic acid to it and it work wonders, I've seen how smooth, bright and flawless my skin has been for the past few weeks and I absolutely love ❤️ it, and I'll continue to use it!
PS: I put this oil on my whole body!