Coconut + Mango Moisturizing Body Oil
Regular price

Sale price

$20.00
A mouth watering blend of tangy sweet honey mango coupled with sweet island coconut and a touch of vanilla.
Made up of a luxurious blend of plant based oils that nourish and hydrate, this non-greasy, noncomedogenic blend of jojoba oil, sweet almond oil, and sunflower oil is great at balancing any skin type! It is lightweight, quickly absorbed into the skin and is perfect for layering over our whipped body butters. 
maintains healthy looking skin
non-greasy body oil that reduces transepidermal water loss and helps retain essential moisture
fast absorbing, antioxidant rich formula 
provides all day 24 hour moisture for dry skin

Free of parabens, sulfates, phthalates and petrolatum
Ingredients

Simmondsia Chinensis (Jojoba) Seed Oil, Prunus Amygdalus Dulcis (Sweet Almond) Oil,Helianthus Annuus (Sunflower) Seed Oil, Phthalate-Free Fragrance
How To Use

Massage into damp skin to seal in moisture.

Pro tip: Add a few drops of oil to your whipped body cream. Not only does an oil provide a more luxurious feel, it provides more occlusive action for dry skin that needs it.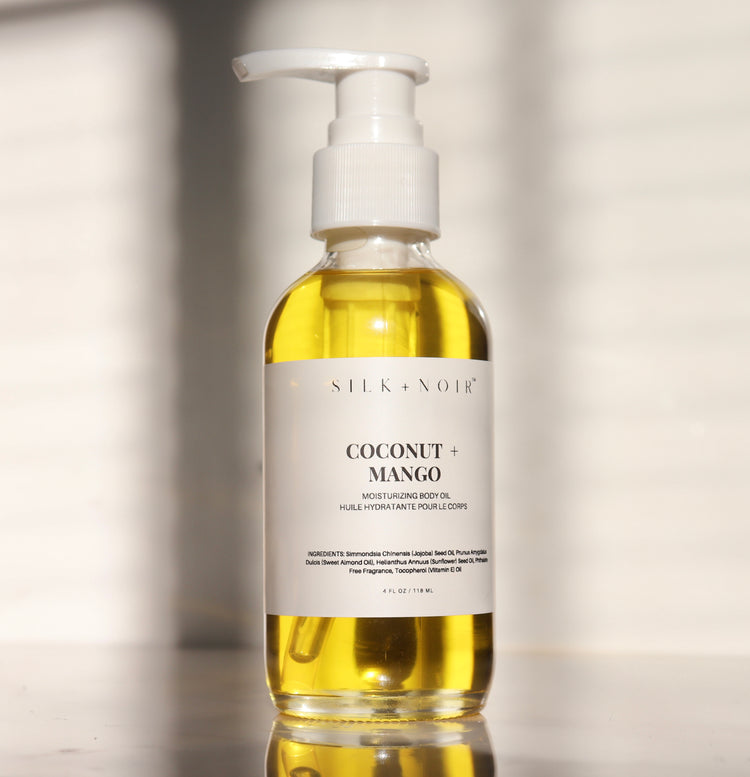 Key Ingredients
Golden Jojoba Oil

Produced from the seed of the jojoba plant, this plant oil is deeply hydrating while easily absorbing into the skin.
Sunflower Seed Oil

RIch in vitamin E, sunflower oil soothes dry skin + ehances the skins natural skin barrier function.
Sweet almond oil

Abundant in fatty acids, sweet almond oil keeps your skin healthy while helping it look visibly smoother + softer.
Genuinely Amazing
I didn't know what to expect when I decided to purchase this, but I can honestly say that I was wonderfully surprised! I love the smell and feel of the oil- the scent is not too strong but still lovely, the feel is super lightweight on the skin and really does pair nicely with the body butters. Whenever I run out of this oil, I am definitely going to be buying again and again! I know blindly buying scented items can be intimidating but I highly recommend giving this a try, like for real! Love Love Love this product and brand!
Amazing Smell
This is my first time trying this brand and it's amazing. The smell is so comforting and the oil really makes your skin feel soft. My only hang up is the size. I received my oil less than a week ago and it's already almost gone. I do use it on my entire body and am plus size, so that may be why. I just wish it lasted a little longer.
I actually love this body oil. It has a great feel and leaves a really nice sheen. The smell isn't too strong but it does give "hair oil" vibes lol but I love it
Magic in a bottle
Before using this my skin was super dry and flaky. I use this paired with the coconut+mango body butter and my skin is very hydrated, smooth, and silky for days! I'm in love with my combo that I'm a customer for life and I don't see myself using anything else to tame my dry skin!!
Definitely not
Not for me, I would not purchase this again.l, however it could be a fav for someone else.