Cocoa Butter + Cashmere Deodorant Cream | Aluminum & Baking Soda Free
Regular price

Sale price

$18.00
Silk + Noir's all natural deodorant is made from a signature blend of 100% all natural ingredients that effectively work to neutralize underarm odor and absorbs wetness without the use of aluminum or other harmful chemicals. Our aluminum and baking soda-free deodorant is made from nourishing and gentle organic ingredients. 
Packaged in a glass jar with recyclable metal lid. Comes in a 2oz glass jar. Glass jars are easily reusable, recyclable, and (unlike plastic jars) are impervious to chemical breakdown by essential oils.
Scent: Warm and cozy notes of rich cocoa butter, olive wood and a touch of coconut sweetness.

Directions: Warm a pea-sized amount between your fingers and apply directly to your underarm area.

Ingredients: Butyrospermum Parkii (Organic Shea Fruit Butter), Maranta Arundinacea (Arrowroot Powder), Cocos nucifera (Coconut Oil), Magnesium Hydroxide, Cera Alba (Beeswax), Simmondsia Chinensis (Jojoba) Seed Oil, Phthalate-Free Fragrance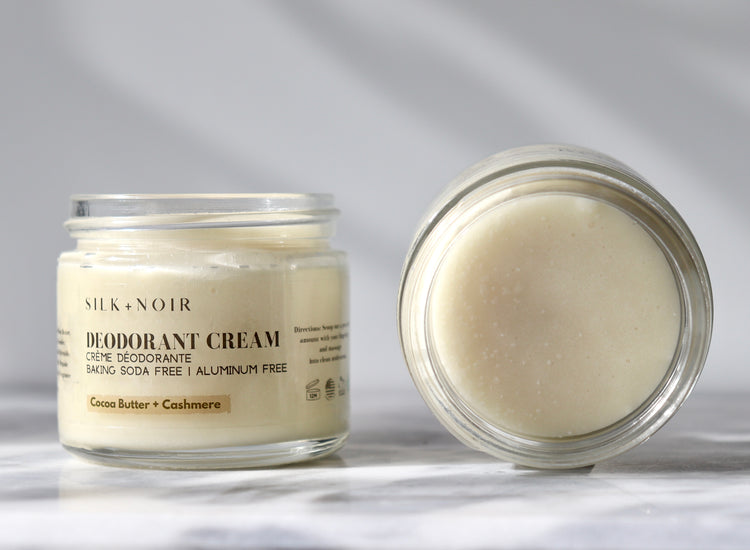 Good stuff
This stuff works great for me. Better than any stick deodorant. And its safe. It smells great! I wipe my pits with witch hazel after showering and apply. Lasts all day and even if I sweat, I only smell like the amazing scent of the product. A little goes a long way. Consistency is a bit gritty but applies just fine using finger tips
This Stuff Is NO JOKE!!
Absolutely LOVE this deodorant! The smell is so fluffy and creamy, I feel like I can wear it with whatever scent I choose to put on. I'll admit I was a little hesitant when the packaging said to use a pea-sized amount, but truthfully that's all you'll need for the day! I worked a full 8 hour shift at a restaurant with this on and I still smelled soo fresh! It's almost too hard to believe lol. (I did go through a few weeks of detoxifying my underarms so I'm not sure how it will work with an immediate switch to natural deodorant, but I will definitely be stocking up on this!)
Absolutely LOVFEE!
This deodorant is nothing short of amazing!! It smells delicious and holds up reallllllyyyy well. I live in Soflo so I NEEEDSS deodorant 😂😂 no debate! I was a bit weary trying an all natural deodorant but I'm glad I did. I even workout with this stuff and it doesn't leave me with a funny tangy smell that I'd get with store bought deodorants. I'm a customer for life! Try it and see how you like it.
Effective
The deodorant is effective and has a pleasant odor. My one complaint is the shipping process. I ordered on 7/31 and did not receive until 8/10 with 8.99 shipping. This is common as this is not my first or second time ordering. If I continue to use I may order more than 1 so I won't have to deal with the wait.
Great for other areas
Great deodorant, great scent! I used this all summer. I didn't care for it for my underarms but as plus size girlie with rolls I did use it to butter between my rolls kept me dry and smelling good. Also used it on my thighs to prevent chafing I would def buy again.