Grapefruit + Mangosteen Deodorant Cream | Aluminum & Baking Soda Free
Regular price

Sale price

$18.00
Silk + Noir's all natural deodorant is made from a signature blend of 100% all natural ingredients that effectively work to neutralize underarm odor and absorbs wetness without the use of aluminum or other harmful chemicals. Our aluminum and baking soda-free deodorant is made from nourishing and gentle organic ingredients. 
Packaged in a glass jar with recyclable metal lid. Comes in a 2oz glass jar. Glass jars are easily reusable, recyclable, and (unlike plastic jars) are impervious to chemical breakdown by essential oils.
Scent: Ripe, tangy grapefruit melded with citrusy & sweet mangosteen.

Directions: Warm a pea-sized amount between your fingers and apply directly to your underarm area.

Ingredients: Butyrospermum Parkii (Organic Shea Fruit Butter), Maranta Arundinacea (Arrowroot Powder), Cocos nucifera (Coconut Oil), Magnesium Hydroxide, Cera Alba (Beeswax), Simmondsia Chinensis (Jojoba) Seed Oil, Phthalate-Free Fragrance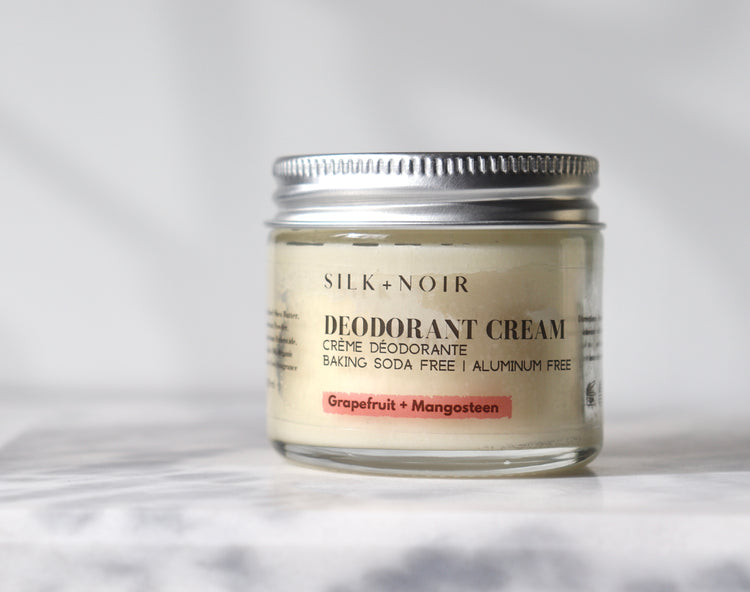 IT WORKS!!!
Tried it out and they it all worked out. Smells great. No sticky residue. Now I'm just waiting for summer to see how it holds up. But so far so great.
Deodorant: Grapefruit & Mangosteen
I am typically skeptical of trying products that aren't from commercial brands in weariness of effectiveness. However, I was excited to try this deodorant and I love it. The ingredient list is short and all natural. I did NOT experience any perspiration or discoloration, although my shirt was dark. My odor was kept down. The texture feels great; it is firm yet easy to remove and spread on. A little does go a long way. I did notice that it seemed very gentle under my arms. My pits are usually dark but they seem light with one use; perhaps because there was no product build up. I will purchase more.
Over the last few years I have grown an interest in supporting independent business, especially learning about what it takes to develop and run one and learning the significance of them among societies where larger corporations seem to rule. My support continues to grow with my admiration of and experience with effective products, all of which also provides a more personal experience with the brands and the creators and entrepreneurs behind them.
Fave
I absolutely love this product smells great and lasts all day even crazy days at the gym!!!!!
Delicious Fragrance
I love all the scents! This is such a great smell. Try them all!
Not for me
Sleek, neat packaging. Scent is unlike what I expected... extremely tart and hardly sweet. Texture was nice, but it did not help prevent armpit odor nor sweat for me. The odor even got worse.