Baby Powder Deodorant Cream | Aluminum & Baking Soda Free
Regular price

Sale price

$18.00
Silk + Noir's all natural deodorant is made from a signature blend of 100% all natural ingredients that effectively work to neutralize underarm odor and absorbs wetness without the use of aluminum or other harmful chemicals. Our aluminum and baking soda-free deodorant is made from nourishing and gentle organic ingredients. 
Packaged in a glass jar with recyclable metal lid. Comes in a 2oz glass jar. Glass jars are easily reusable, recyclable, and (unlike plastic jars) are impervious to chemical breakdown by essential oils.
Scent: The familiar, soothing essence of baby powder 

Directions: Warm a pea-sized amount between your fingers and apply directly to your underarm area.

Ingredients: Butyrospermum Parkii (Organic Shea Fruit Butter), Maranta Arundinacea (Arrowroot Powder), Cocos nucifera (Coconut Oil), Magnesium Hydroxide, Cera Alba (Beeswax), Simmondsia Chinensis (Jojoba) Seed Oil, Phthalate-Free Fragrance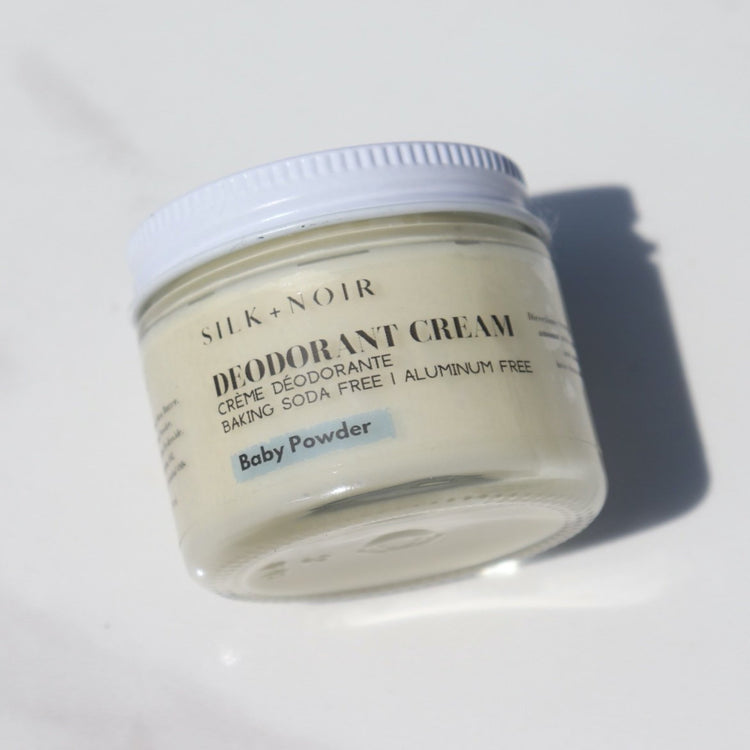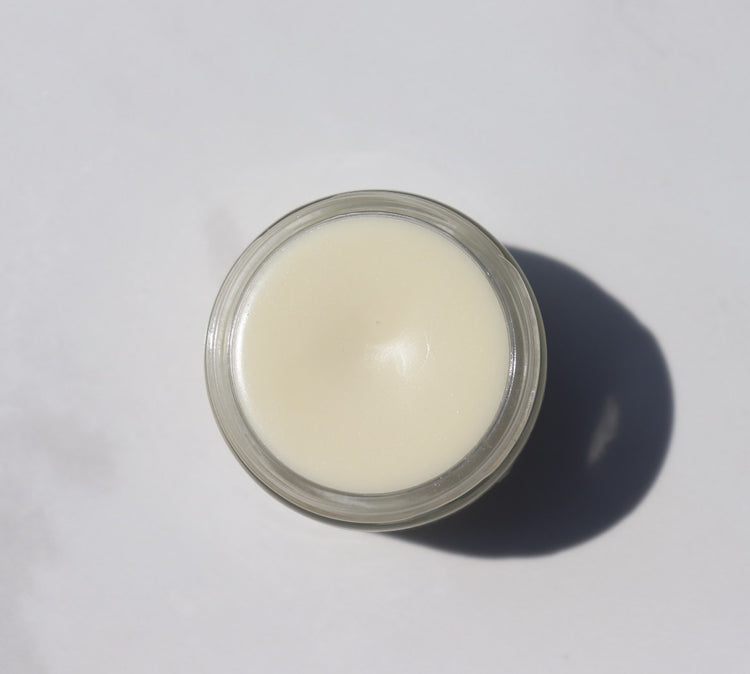 Love!
I'm on my 3rd jar. It's so hard to find aluminum free deodorant that works well. I've tried so many different ones and they're not cheap. I finally found one I love! The scent is amazing, I get compliments on the scent often, it does not cause irritation and it works. Please don't stop making this and if you're reading this and debating wether it's worth it or not.. it totally is ! Give it a try ! I think you'll love it too :)
It works
This is truly the only non-aluminum deodorant that has worked for me, ever! I run hot, I workout, and this product keeps me feeling fresh & dry. For real!
I'm in love
I been searching for a all natural deodorant that smell good, last long, doesn't cause a rash, and don't cause hyper pigmentation for a very long time. When I say this check all the boxes. I mean it's given exquisite self care on a very relaxing Sunday. I am now worry free. You must buy! You will thank me later.
Baby Powder
I first tried to grapefruit and mangosteen. That was pretty okay. I love how it blocks odor, however the scent isn't too appealing. I decided to try baby powder, the scent is a bit strong, it's taking sometime to get used to. I would love just a plain lemon or orange scent! I hope that you restock the lime soon 🥰
I'm not musty!
I was uncertain about using an aluminum and baking soda free deodorant. I didn't know if it'd leave me smelly after a long day or workout and I'm so pleased to report it didn't! It also smells delightful.