Cocoa Butter + Cashmere Whipped Body Butter
Regular price

Sale price

$22.00
Ready to experience soft, supple skin while avoiding the unhealthy chemicals in your everyday body moisturizer? Look no further!
Our rich, non-greasy whipped body butters are handcrafted in small batches and are an organic, moisturizing blend of whipped butters such as shea and cocoa butter that focus on hydrating and nourishing your skin, instantly relieving your skin of any dry, tight & itchy feeling. 
This decadent blend of raw butters and pure oils quickly absorb into your skin, quenching it with the essential nutrients your skin is craving.
Are you ready for a whipped body butter that doesn't feel heavy and soaks into your skin without the sticky residue? Find out why our whipped body butters have garnered over 100 5-star reviews!
Notes of warm spices, rich cocoa butter, olive wood and a touch of coconut sweetness.
Ingredients: Unrefined Butyrospermum Parkii (Shea) Butter, *Theobroma Cacao (Coco) Butter, *Cocos Nucifera (Coconut) Oil, Prunus Armeniaca (Apricot) Oil, Prunus Amygdalus Dulcis (Sweet Almond) Oil, Rosa Canina (Rosehip) Seed Oil, Vitamin E, Phthalate-Free Fragrance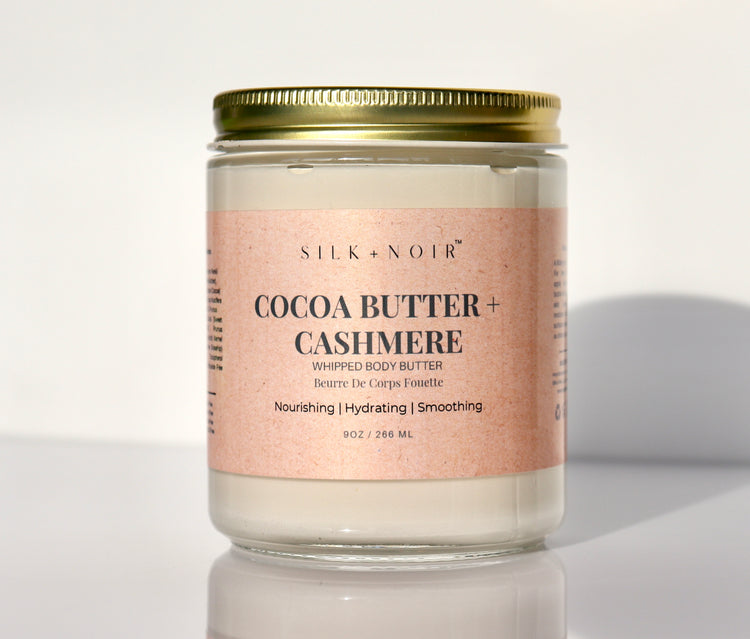 A Gem
I've been looking for a body butter thats light and non-greasy but moisturizing and this one is it. It smells so good and melts right into your skin while giving you a beautiful glow. A little goes a long way as well ! You did ya big one with these butters sis ! Lol
Smells Delicious!
Smells absolutely delicious 😋 I love that the scent is not too strong. However, it lingers and last all day long- especially when layered with the oils and butter cream. Totally worth the purchase!
Love this body butter
It's so soft and creamy I will be buying this again!
The smell is heavenly!
This is AMAZING!!
I love everything about this body butter. It smells heavenly and so moisturizing. It's non-greasy and absorbs well into the skin leaving the skin silky smooth. I also got the coconut + mango whipped body cream and absolutely love it too. I can wait to try more.
The most bang for you buck!
Saw someone on TikTok use all 3 body products in this fragrance sandwiched together, and the way she described her experience, I was hooked! I didn't even read the scent notes/description before buying it. I went in blind and purchased all 3 body products this scent comes in! This has been a staple in my self care/Sunday Reset since I've had it and the smell is SO delicious—just as described! The description says it has sweet coconut in it, and in hindsight, I don't think I would have purchased it based on it having coconut notes because I never have liked a coconut scented anything. But this fragrance smells sweet and mildly chocolatey almost—no unpleasant coconut notes whatsoever. So if coconut typically isn't your jam, this actually just might be! You will not regret it if you're wanting to be that person that everyone compliments the way they smell! That's always the goal for me and I've finally achieved it with this! I also love to spray the vanilla Billie Eillish perfume, the Glossier You perfume, or the Carolina Herrera Eau De Parfum Légère. All are very gourmand scents that compliment this fragrance so so well! I WILL be getting more of this very soon! Definitely a keeper! Thank you for making such an incredible product! 😍 I love this one in particular. It's like the lotion and oil all in one. You get a lot of product and a little goes a long way! If you're curious which one to get if you can only get one, I would go with this one! It's the most bang for your buck and is SO nourishing! I love it!!