Cocoa Butter + Cashmere Deodorant Cream | Aluminum & Baking Soda Free
Regular price

Sale price

$18.00
Silk + Noir's all natural deodorant is made from a signature blend of 100% all natural ingredients that effectively work to neutralize underarm odor and absorbs wetness without the use of aluminum or other harmful chemicals. Our aluminum and baking soda-free deodorant is made from nourishing and gentle organic ingredients. 
Packaged in a glass jar with recyclable metal lid. Comes in a 2oz glass jar. Glass jars are easily reusable, recyclable, and (unlike plastic jars) are impervious to chemical breakdown by essential oils.
Scent: Warm and cozy notes of rich cocoa butter, olive wood and a touch of coconut sweetness.

Directions: Warm a pea-sized amount between your fingers and apply directly to your underarm area.

Ingredients: Butyrospermum Parkii (Organic Shea Fruit Butter), Maranta Arundinacea (Arrowroot Powder), Cocos nucifera (Coconut Oil), Magnesium Hydroxide, Cera Alba (Beeswax), Simmondsia Chinensis (Jojoba) Seed Oil, Phthalate-Free Fragrance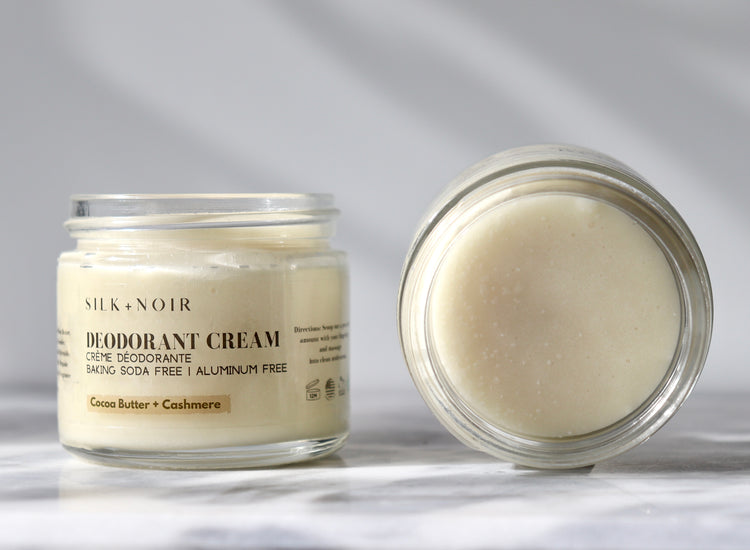 Love at 1st Use
Smells soooo good and it works. Used other natural deodorants but, none worked as great as yours...Definitely apart of my daily rotation!!!!
Love this product
I bought the body oil, the body butter, and the deodorant all together. This is my favorite product from the trio. A little goes a long way, and it really does a great job as a deodorant. I would not use this if I'm planning on going sleeveless at a wedding or a club because the smell does not linger and it does not keep you from sweating like an antiperspirant does. It works well for daily use for work or the gym because it keeps the smell away all day and the ingredients are great.
B.O & work amazing
I love this deodorant! It has a very creamy texture which allows for easy application; a little goes a long way. It looks oily but sinks into skin also it does not leave stains on clothing. It works well for me as I do have body Oder and it works wonderful it smells amazing and leaves armpits feeling so smooth.
Good stuff
This stuff works great for me. Better than any stick deodorant. And its safe. It smells great! I wipe my pits with witch hazel after showering and apply. Lasts all day and even if I sweat, I only smell like the amazing scent of the product. A little goes a long way. Consistency is a bit gritty but applies just fine using finger tips