Lemon + Lavender Deodorant Cream | Aluminum & Baking Soda Free
Regular price

Sale price

$18.00
Silk + Noir's all natural deodorant is made from a signature blend of 100% all natural ingredients that effectively work to neutralize underarm odor and absorbs wetness without the use of aluminum or other harmful chemicals. Our aluminum and baking soda-free deodorant is made from nourishing and gentle organic ingredients. 
Packaged in a glass jar with recyclable metal lid. Comes in a 2oz glass jar. Glass jars are easily reusable, recyclable, and (unlike plastic jars) are impervious to chemical breakdown by essential oils.
Scent: An aromatic blend of lavender and bright lemon pulp.
Directions: Warm a pea-sized amount between your fingers and apply directly to your underarm area.

Ingredients: Butyrospermum Parkii (Organic Shea Fruit Butter), Maranta Arundinacea (Arrowroot Powder), Cocos nucifera (Coconut Oil), Magnesium Hydroxide, Cera Alba (Beeswax), Simmondsia Chinensis (Jojoba) Seed Oil, Phthalate-Free Fragrance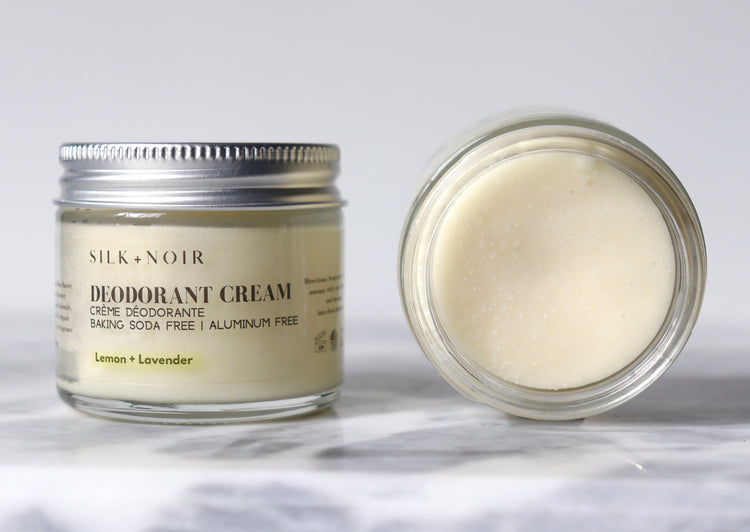 Great product
I was already using a natural deodorant and wanted to try this one. It works and I didn't have to reapply layer in the day.
Not sure about the smell.
Even though it works well and keeps me odor free, I don't enjoy the smell of it like I do with the Cocoa Butter and Cashmere one.
So far, so good
I've only used this once but it seems to work great. It smells like lemon and lavender (as the name suggests) with a powdery freshness. It feels bougie! I have sensitive skin and have reacted negatively to baking soda deodorants. The one time I wore this, I felt no reaction. I took a long walk and still smelled pretty good by the end. I'll keep using it!
Perfect Deodorant!
I have sensitive armpits and even with the natural deodorants I have found, my skin still can get irritated by them. Silk+Noir's deodorant has been amazing since I started using it. A little goes a long way and it's effective even through working out two times a day and an entire work day. I am glad that I found this product and the company!
I've been using the deodorant cream for a week now and I'm shocked how well it kept me fresh after a twelve hour shift. Definitely will recommend and repurchase.